Marcy Javor Leads Luxury Sales in Royal Palm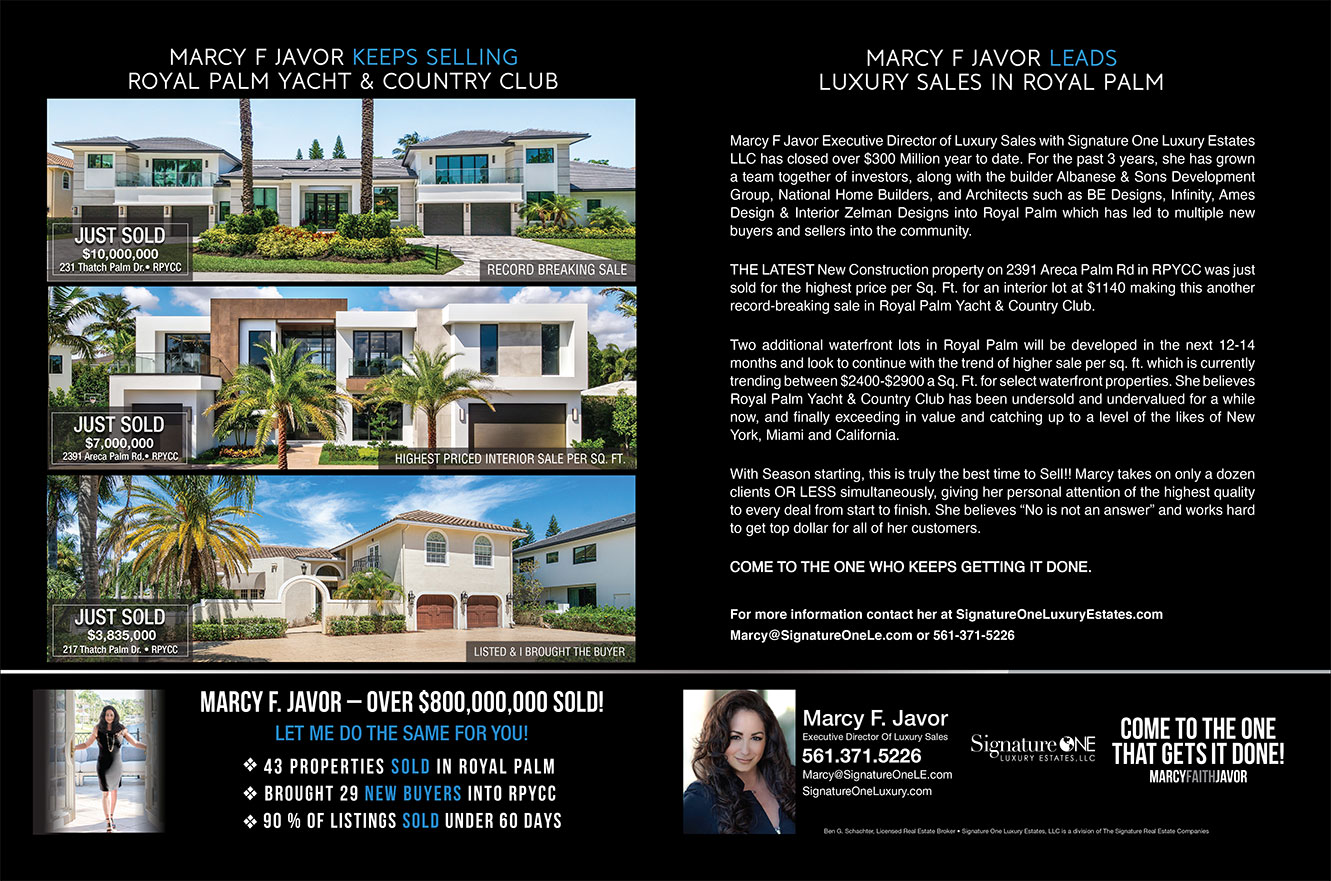 Marcy F Javor Executive Director of Luxury Sales with Signature One Luxury Estates LLC has closed over $300 Million year to date. For the past 4 years, she has grown a team together of investors, along with the builder Albanese & Sons Development Group, National Home Builders, and Architects such as BE Designs, Infinity, Ames Design & Interior Zelman Designs into Royal Palm which has led to multiple new buyers and sellers into the community.
THE LATEST New Construction property on 2391 Areca Palm Rd in RPYCC was just sold for the highest price per Sq. Ft. for an interior lot at $1140 making this another record-breaking sale in Royal Palm Yacht & Country Club.
Two additional waterfront lots in Royal Palm will be developed in the next 12-14 months and look to continue with the trend of higher sale per sq. ft. which is currently trending between $2400- $2900 a sq. ft. for select waterfront properties. She believes Royal Palm Yacht & Country Club has been undersold and undervalued for a while now, and finally exceeding in value and catching up to a level of the likes of New York, Miami and California.
With Season starting, this is truly the best time to Sell!! Marcy takes on only a dozen client OR LESS simultaneously, giving her personal attention of the highest quality to every deal from start to finish. She believes "No is not an answer" and works hard to get top dollar for all of her customers.
COME TO THE ONE WHO KEEPS GETTING IT DONE.
For more information email Marcy or call 561-371-5226